Fellow Denverites: Tomorrow (June 27, 2012) is Bike to Work Day!
This is the one day (among others) that you should feel compelled to pull your bike out of the garage, pump up the tires, grease the chain, and pedal your way to work!
There will be several breakfast and bike home stations located throughout the city (See Full Map Here), one of which will be here on the University of Denver's Driscoll Lawn.  Breakfast Stations will be open 6:30-9am, Bike Home Stations will be open 4:30-6pm.
You can learn more about Bike to Work Day from our wonderful local advocacy
organizations: Bicycle Colorado, DRCOG, and (our favorite) Transportation Solutions.
You should also support Bike Denver at the annual Bike From Work Bash, which is held at  15th & Little Raven on June 27th, 5-9pm.  There will be Free Beer, Free Music, and all-around good fun with Denver's best cyclists and bicycle advocates.  So hop on your old two-wheeler and enjoy bike to work day! (Then rinse, and repeat!)
At a recent Sustainability Council meeting, DU student group The Social Brink asked if we'd like to participate in a community art project. The group organizes students around social entrepreneurship and innovation, and their aim was to transform several old doors into colorful representations of social change.  We volunteered to create a transportation-themed door, and decided to focus on bicycle transit in honor of Bike to Work Day/Month. Scroll down for images of the painting process and the final result!
DU Students: Please take the DU Transportation Sustainability survey!
https://udenver.qualtrics.com/WRQualtricsSurveyEngine/?SID=SV_55uusOZoUUZ2e8c&_=1
This is part of DU's Sustainability and Transportation course, in which students studying the social and environmental elements of transportation and learning to promote healthier ways of meeting individual and community needs while reducing the social and environmental impacts of mobility practices.  The survey will investigate the transportation behavior of DU students, both on and off-campus.  The data is collected anonymously and will be used to complete the student research project, and to inform the University Sustainability Council in its ongoing work to eliminate DU's carbon footprint.
It will take 5 minutes of your time – please complete the survey now.
It's September 22, 2011 – the last day of Summer this year.
I can't help but reflect on all those summery things that we leave behind: bright mornings, sweet iced coffees, balmy bike rides, popsicles, raging outdoor chicken parties, beer-in-hand kickball, zip-lining into mountain lakes, warm nights of cricket & locust chorus, and other stuff. Sayonara, summer – we will miss you.
Still, Fall is a beautiful time of year.  The colors, the smells, the birthdays (ahem).  Last week I bought a case of wine and churned about 20 homegrown tomatoes into a fresh, hot, steamy pot of tomato soup.  Soup season is upon us!  You may be lucky enough to have a taste.  It's a delicious time of year.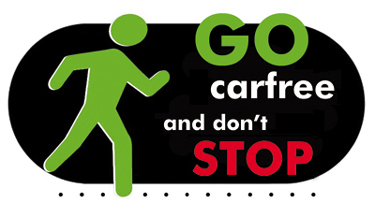 There is another reason to celebrate September 22nd.  Today is World Car-Free Day. This is when we come together by bike, by foot, by hovercraft, to celebrate the potential of a car-free world. Whattaya say?
Here's are some of my favorite bicycle videos to get us celebrating a car-free world:
Thumbs up for Rock and Roll!
Mayor of Vilnius, Lithuania Fights Illegally Parked Cars with Tank
Bike Lane Activism in NYC
I Am Not a P#$$Y
Case Study of a 3-way Street in NYC
Women's Liberation and the Bicyle
Early Bicycle History in Denver
Ooh, La La! Horse Joins Tour de France